Gusto mo rin ba malaman ang pinaka maliliit na breed ng aso sa mundo?
Naging curious lang ako nung bumili ang kapatid at nanay ko ng small lap dog at naisip ko, ano ano kaya ang mga maliliit na breed ng aso sa buong mundo?
Eto ang 10 sa pinaka maliit ng Dog breed sa mundo. This is not precise information or complete or sunod sunod… mag Google ng sarili para ma satisfy ang curiosity!
10. English Toy Spaniel
kilala din sya sa tawag na Cavalier King Charles spaniel
umaabot sya ng mga 9 to 10 inches in height at bigat na 8 to 14 pounds.. mga 6 kilos
long-haired, mellow, good-natured, playful but gentle and highly loving
devoted to an owner
fairly low energy, and are happiest cuddling on the couch with their favorite human
9. Miniature Pinscher
also know as Min Pin
 old breed originated in Germany
Origin of breed: stems from a mix of dachshund, Italian greyhound, and other breeds over its long history
stands 10 to 12 inches tall and weigh eight to 10 pounds
sturdy build that suits their assertive, outgoing personality
Athletic and energetic
great dogs for active adults
 like to play hide-and-seek, as this breed is known to be a great escape artist.
love to act as watchdog and alert their owners to any possible intruder
8. Japanese Chin
friendly, happy companion dog
height of eight to 11 inches and a weight between seven and 11 pounds
known for its catlike disposition
even has a tendency to use its paws to wash its face
friendly but a little reserved with strangers
known to shape their personality around their owners
a mellow dog with a quiet owner and a playful dog with an active owner.
loves to learn interesting new tricks and thrives on variety in training
7. Toy Fox Terrier
descendant of the smooth fox terrier
stands eight and a half to 11 inches tall and weigh anywhere from three and a half to seven pounds
plenty of energetic activity stored in their small frames
Fast, agile, courageous, and smart
loves to play, explore, and learn
stay active well into their older years
6. Russian Toy
unknown outside of Russia, its country of origin, until the 1990s
standing between seven and 11 inches tall and weighing two to six pounds.
two varieties of coat: a smooth coat and a long coat
looks like the papillon thanks to its big ears with feathered fur edges
bred to be a ratter and watchdog, and thus can be quite vocal
loyal, playful members of any family — including those with kids
prefers walks rather than being carried around
5. Yorkshire Terrier
started out as ratters in Yorkshire, England, but have grown to become a much-loved companion animal
According to the American Kennel Club, it is the 10th most popular breed of dog
stands six to nine inches tall and weigh around seven pounds
known for their long, luxurious coats, which are considered hypoallergenic as they shed less than other dogs
grooming is still essential for these long-haired dogs
aren't particularly fond of children, other dogs, or strangers, and they can be vocal
with appropriate socialization and training, they can be a friendly, balanced dog
4. Papillon
traces its heritage to the Continental Toy Spaniel and was once called the Dwarf Spaniel.
name is perfect for this breed, as it means butterfly,
stand eight to 12 inches tall and weigh between seven and 10 pounds
friendly and self-assured, and when properly socialized, does well with children, strangers and other pets
energetic and intelligent dog
well known to be great companion animals, even if they can be a bit on the vocal side
3. Affenpinscher
originated in Germany to fulfill the same role of rodent control in kitchens and stables
"monkeylike terrier," which is fitting for a dog full of personality and feistiness
stands between nine and 12 inches tall and weighs around seven to 13 pounds
active indoors and love daily walks
curious and playful, but also are stubborn and protective
tough-guy personality, they need training and respond best to positive reinforcement methods
fearless and a bit territorial, so they don't do well in homes with children
when paired with the right owner, this scruffy little dog makes for a smart, sassy best friend
2. Pomeranian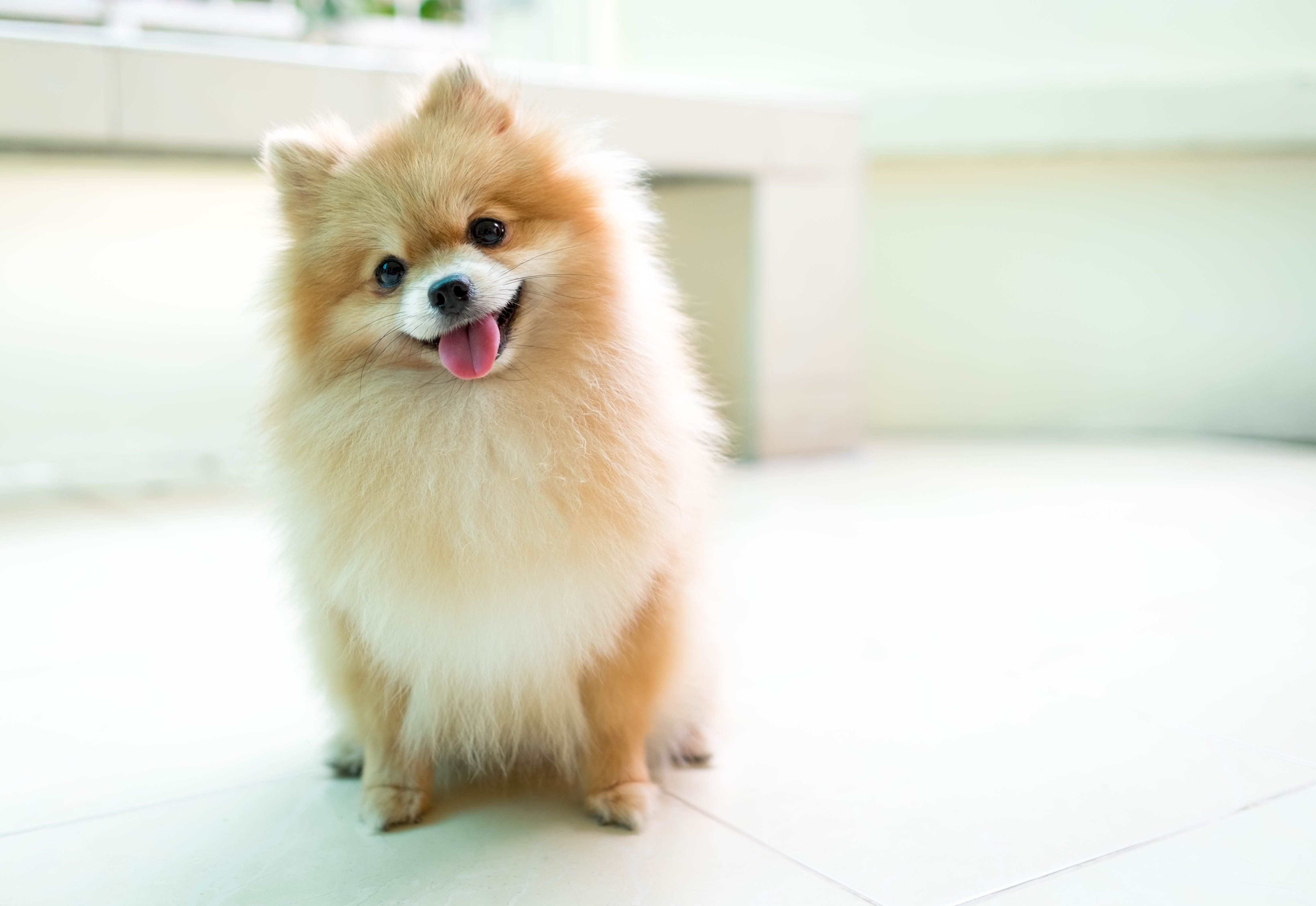 stand between five and 11 inches tall and weigh a mere four to eight pounds
come in over two dozen colors ranging from orange and red to tan, white and black
Their thick coat is actually a double coat, with a soft, thick, short undercoat and a long, straight, harshly textured outercoat
shed their undercoats twice a year.
These alert, extroverted dogs are easy to train
Poms can be territorial and develop habits of excessive barking or aggressiveness with other dogs.
Chihuahua
tiny dogs can have long or short coats in a variety of colors
two distinct head shapes: apple-shaped and deer-shaped
chihuahuas weigh a featherlight four to six pounds and stand only six to 10 inches tall
low-maintenance dogs when it comes to grooming, but they can be high-maintenance when it comes to training
devoted to a single person and are protective, which can make living in a house with children a challenge
personality of the dog and the patience and training by the family are important factors
Anong breed ng small dog ang gusto mo? Comment below.